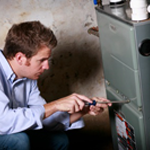 Our Technicians are some of the best in the industry when it comes to the repair and maintenance of your central heating and air conditioning systems. We guarantee the correct diagnosis the first time and ensure your peace of mind with our exclusive craftsmanship and labor guarantees. This allows you to save money from any unnecessary or incorrect repairs from an improper diagnosis that may cause further damage to your heating or air conditioning systems.
Service Call Fee $69: The Service Call Fee is a fee that you pay to cover our technician's time to drive to your home and diagnose your system's failure. This fee is the least amount that you will pay if no other work were to be completed. (Some companies will waive the service fee with any covered repair. What they won't tell you is that the service fee is included in their repair fee to "make it more attractive" for them to be dispatched to your home.)
Home Buyer Inspection Fee - $99: The Home Buyer Inspection Fee is for a customer looking to purchase a home but wants the central heating and air conditioning system checked prior to purchasing. Even though Buyers will have a Home Inspection completed during this process, the Home Inspection report is only a general indication of the system's operation and not inspected in full detail. The Home Buyer Inspection provides a detailed report that piggybacks off the Home Inspection Report to identify the overall condition of the central heating and air conditioning system. This also includes any recommendations or corrective actions if the system is outside of the MGF specifications, options with detailed pricing of corrective solutions, and built-in replacement cost proposal price to help potential buyers make proper negotiations and educated decisions on the central heating and air conditioning systems. Plus, we guarantee this inspection for up to 180 days after you close on the house. This means if something fails within that time and it was not covered in the inspection report, we will repair or, if needed, replace the system at no charge to you.